Gabrielius Landsbergis
Lithuania's Foreign Minister Gabrielius Landsbergis came to Vienna for a visit, meeting his counterpart in Austria, Alexander Schallenberg. In addition, Landsbergis met with IAEA Chief Rafael Mariano Grossi and OSCE Secretary General Helga Schmid. The exchanges focused on the Russian war in Ukraine, in particular European support efforts against the backdrop of the approaching winter, as well as the prosecution of war crimes. In addition, the two foreign ministers discussed current developments in Iran and increasing migration pressure.
December 11, 2022
Lithuania and Austria have indicated that they are in favor of putting new sanctions on Belarus in response to the significant increase in illegal border crossings on the Belarusian-Lithuanian border. Lithuanian Foreign Minister Gabrielius Landsbergis and Interior Minister Agnė Bilotaitė hosted their Austrian counterparts Alexander Schallenberg and Karl Nehammer at the border to discuss the ongoing situation.
August 26, 2021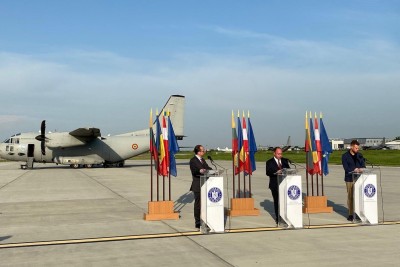 The Foreign Ministers from Lithuania, Romania and Austria have visited the South Caucasus countries Azerbaija, Armenia and Georgia on behalf of EU External Relations Commissioner Josep Borrell. Read everything about the details of the trip below.
June 28, 2021