Shri Rajiva Misra
The Permanent Mission of India in Vienna celebrated the International Day of Non-Violence and the 145th Birth Anniversary of Mahatma Gandhi at the Rotunda at United Nations, Vienna International Centre. DG UNOV, H.E. Mr. Yuri Fedotov, DG UNIDO, H.E. Mr. Li Yong, Permanent Representatives of various countries and officials of the UN Vienna were present at the event.
October 16, 2014
The Indian Embassy in Vienna in cooperation with the Austrian Chamber of Commerce, organized the "Make in India" launch event at the WKO in Vienna. The main focus of the event was the recently announced "Make in India" campaign.
October 15, 2014
Yesterday evening at the Indian Embassy in Vienna, Ambassador Misra has presented himself to the international public.
May 15, 2014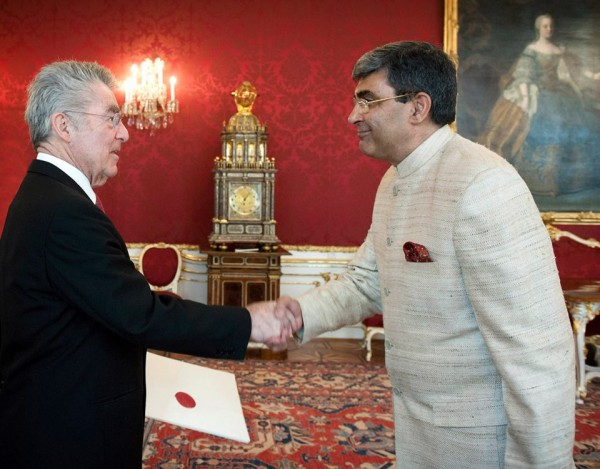 Ambassador Rajiva Misra presented his credentials to Dr. Heinz Fischer, the Federal President of Austria on 14th March and took charge as India's Ambassador to Austria and Montenegro, and Permanent Representative of India to the International bodies in Vienna.
March 14, 2014