Stephan Pernkopf
Devastating forest fires keep France at bay. After it seemed impossible to cope with the disaster on its own, the European Community was asked to help. Many states helped, including Austria.
August 17, 2022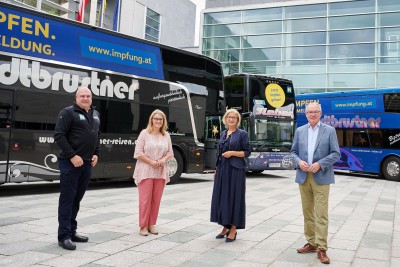 Lower Austria has announced that it will begin administering COVID-19 booster shots for elderly and risk patients in nursing homes and clinics, an additional three vaccination buses will stop in various communities throughout Lower Austria, and the testing strategy is being expanded to include PCR-test vending machines.
August 30, 2021
Lower Austria's pharmacies are now offering free COVID-19 PCR tests. This will be especially helpful given the new requirements of a negative PCR test or proof of vaccination to enter clubs or discos. The offer will be provided in conjunction with the progress being made with vaccines. Read about how to get a test and the latest news about Lower Austria's vaccination efforts.
July 28, 2021
Also this year Lower Austria presented itself at the economic talks of the Forum Alpbach as an innovative business location through its business agency ecoplus and as an outstanding culinary region through the initiative "Thus tastes Lower Austria".
August 29, 2019