Newsletter: Ibiza Affair - Austria is Busy With Itself
After the release of the incriminating video of "foreign secret services" and the resulting resignation of Vice-Chancellor Heinz Christian Strache, the Austrian People's Party (ÖVP) headed by Federal Chancellor Sebastian Kurz calls for early elections as soon as possible. He had also informed the Federal President Alexander Van der Bellen. "Enough is enough", Kurz said in a press statement on Saturday evening.
Government crisis. Chancellor Kurz sticks to dismissal of interior minister. Right-wing populist FPÖ ministers leave government.
President Van der Bellen has sworn in the new ministers Valerie Hackl, Walter Pöltner, Eckart Ratz and Johann Luif.
Eckart Ratz took over from Herbert Kickl - in the context of an expert government formed by Federal Chancellor Sebastian Kurz as a result of the Ibiza Affair - the official duties and the office of the Federal Minister of the Interior until the inauguration of a new government after the early National Council election in September 2019. Like his predecessor Herbert Kickl, Eckart Ratz also does not mince his words.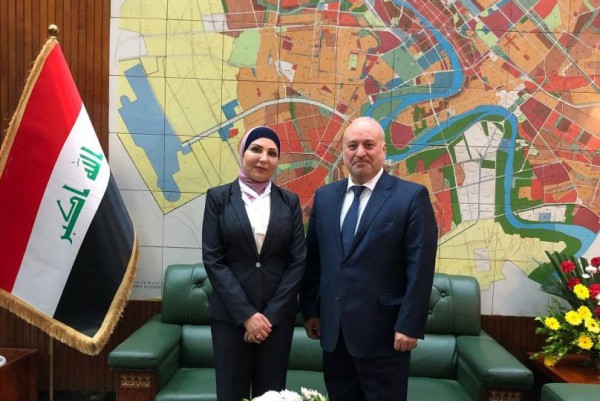 Representatives of the AACC visited Baghdad to further develop the foundation for Iraq-Austria business relations. Visits and contacts with, among others, the Mayor of Baghdad, the Ministry of Electricity, the Governor of the Central Bank and the Federation of Iraqi Chambers of Commerce were on the agenda.
A conference lasting several days entitled "Mongolia in its Perception in Austria - Die Mongolei in ihrer Wahrnehmung in Österreich" will present Mongolia from a scientific, political and cultural perspective. Culinary delights from Mongolia will not be neglected.
The Vienna Chamber of Commerce, a branch of the Austrian Chamber of Commerce, has recently moved into a new ten-storey building near the Vienna Prater, the so-called "Haus der Wiener Wirtschaft". In this building, ten locations from five districts were combined and now all services can be found under one roof.
The "IST - Institute of Science and Technology Austria" in Maria Gugging near Klosterneuburg celebrates its 10th anniversary and invites for this reason to a festive event in its premises. What began 10 years ago with four professors is today an international scientific institution with 700 employees. Among the speakers and participants of the evening are Alexander Van der Bellen, Sebastian Kurz, Heinz Fassmann, Johanna Mikl-Leitner, Thomas A. Henzinger, Michael Ignatieff, Daniel Zajfman, Alice Dautry and Edith Heard.
H.E. Mr. Francois Marcel Michel Saint-Paul is Ambassador Extraordinary and Plenipotentiary of the French Republic to the Republic of Austria.
Simon Wiesenthal is known today as the man who dedicated his life to justice for the victims of the Shoah. But his profession as an architect, which he pursued until his persecution by the Nazi regime, has fallen into oblivion. The exhibition "Café As. Das Überleben des Simon Wiesenthal" shows 80 detailed designs by Wiesenthal for the "Café As", which he made for the Polish prisoner Edmund Staniszewski, who repeatedly gave him food and thus saved his life.