Vienna Opera Ball 2020: The World's Most Famous Ballroom
At the Vienna Opera Ball on February 20, 2020, the Vienna State Opera will be transformed into possibly the most famous ballroom in the world. The so-called "Ball of Balls" is an Austrian society event and creates encounters between artists, politicians, business people and diplomacy.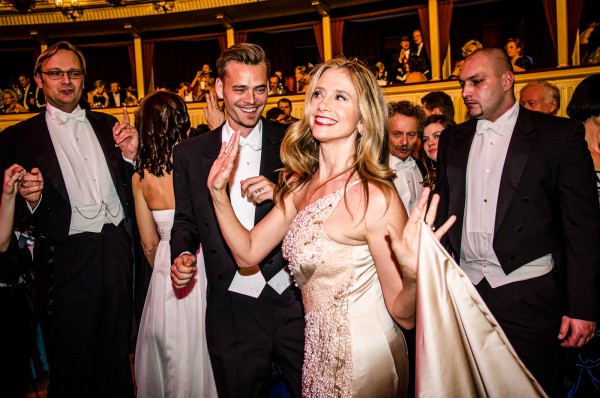 Richard Lugner's opera ball guest in 2020 will be Ornella Muti. / Picture: © Wikimedia Commons / Heisenberg Media [CC BY 2.0 (https://creativecommons.org/licenses/by/2.0)]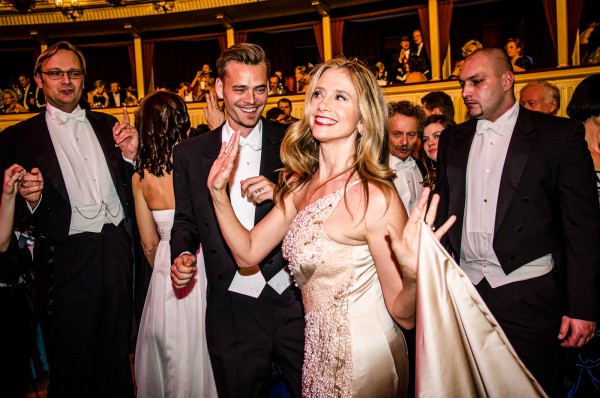 The calendar of the Vienna ball season is filled with more than 450 balls.
The Vienna Opera Ball is the most glittering of these, reaching an audience of millions at home and abroad via TV transmission.
Once a year, the Vienna State Opera transforms into the most beautiful and elegant ballroom in the world: for the Vienna Opera Ball, a glittering celebration, unique in its brilliance and charisma, a model for balls all over the world.
Where a few days before and after the Opera Ball opera and ballet performances enchant the audience, in 2020 about 5,150 visitors will celebrate and dance until dawn.
The international guests from culture, business, politics, science and sport make the ball a major social event.
For the ball preparations, the Vienna State Opera, which normally plays every day, will skip the performances on the two evenings before the Opera Ball. The conversion of the auditorium into the ballroom is completed within 30 hours. The seating has to be removed and the parquet flooring laid, plus a sea of flowers: 650 arrangements and flower arrangements made of thousands of flowers and plants decorate boxes, tables and walls. The dismantling from the ballroom to the opera stage takes another 21 hours - a marathon job for over 500 people.
The Opera Ball's opening ceremony will be glittering with the young ladies and gentlemen's committee of around 150 couples in white ball gowns and tailcoats.
Music and dance throughout the building, the magnificent floral decorations, the elaborate robes of the ladies and the elegant gentlemen in tailcoats, celebrations with friends and unexpected encounters make the Vienna Opera Ball an unforgettable event year after year.
Course of the ball night
20.40: Admission of the ball guests (Attention dress code! Ladies: large, long evening dress, Gentlemen: black tailcoat)
22.00 h: Opening of the Opera Ball (approx. 50 minutes):
- Fanfare, Austrian national anthem, European anthem
- Moving in of the young ladies and gentlemen committee
- Artistic performances of the Vienna State Opera
- Opening waltz: On the beautiful blue Danube
24.00 hours: Midnight Quadrille
At 2:00 and at 4:00, quadrille
5.00 am End of the Opera Ball
Around 150 musicians provide a good atmosphere in eight different ball areas. Current sounds complement the three-four time and offer dancing pleasure for every taste until the early morning hours.
Opening programme in detail
FANFARE by Karl Rosner Markus Henn - Stage Orchestra of the Vienna State Opera
AUSTRIAN NATIONAL ANTHEM Andreas Spörri - Vienna Opera Ball Orchestra
EUROPEAN HYMNE by Ludwig van Beethoven Andreas Spörri - Vienna Opera Ball Orchestra
POLONAISE in A major, op. 40 No. 1 by Frédéric Chopin Moving in of the young ladies and gentlemen committee Andreas Spörri - Vienna Opera Ball Orchestra
ABENDBLÄTTER, Waltz, Jacques Offenbach
Choreography: Eno Peci | Choreographic assistance: Jean Christophe Lesage Daniel Harding - Vienna State Opera Orchestra Vienna State Ballet Manuel Legris; Olga Esina - Jakob Feyferlik, Ketevan Papava - Roman Lazik, Nina Poláková - Masayu Kimoto, Maria Yakovleva - Robert Gabdullin, Nikisha Fogo - Davide Dato, Natasha Mair - Denys Cherevychko; Rebecca Horner - Mihail Sosnovschi, Alice Firenze - Géraud Wielick, Ioanna Avraam - Andrey Teterin, Madison Young - Dumitru Taran, Elena Bottaro - Richard Szabó Semi-soloists and corps de ballet of the Vienna State Ballet Ballet Academy of the Vienna State Opera
Overture to DIE ZAUBERFLÖTE by Wolfgang Amadeus Mozart
Daniel Harding - Vienna State Opera Orchestra
E LUCEVAN LE STELLE from TOSCA by Giacomo Puccini
Daniel Harding - Vienna State Opera Orchestra
Piotr Beczała
SEMPRE LIBERA from LA TRAVIATA by Giuseppe Verdi
Daniel Harding - Vienna State Opera Orchestra
Aida Garifullina,
Piotr Beczala
TANZEN MÖCHT' ICH from the CSÁRDÁS PRINCESS of Emmerich Kálmán Daniel Harding - Vienna State Opera Orchestra Aida Garifullina, Piotr Beczała
BAUERN-POLKA, Polka française, op. 276 by Johann Strauss (son)
Choreography: Maria Santner and Christoph Santner Andreas Spörri - Vienna Opera Ball Orchestra Young Ladies and Gentlemen's Committee
Opening waltz:
An der Schönen Blaue Donau, op. 314 by Johann Strauss (Son) Andreas Spörri - Vienna Opera Ball Orchestra