Space Diplomacy: Moldova Deploys First Satellite from International Space Station
The Republic of Moldova successfully deployed its first satellite, TUMnanoSAT, from the International Space Station (ISS). Under the KiboCUBE program, the United Nations Office for Outer Space Affairs (UNOOSA) and the Japan Aerospace Exploration Agency (JAXA) contributed to this achievement.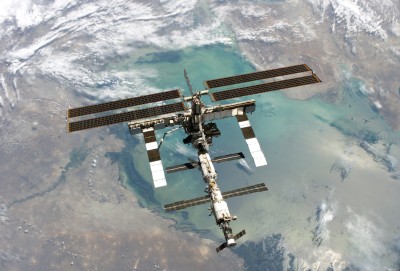 Moldova successfully deployed its first satellite, TUMnanoSAT, from the International Space Station (ISS). / Picture: © Wikimedia Commons, NASA, Public domain
The KiboCUBE program is part of the Access to Space for All initiative and enables teams from developing nations and economies in transition to develop and deploy cube satellites (CubeSat) from the ISS. The KiboCUBE program is a cooperation between UNOOSA and JAXA and benefits further space exploration.
In the fourth round of KiboCUBE, TUMnanoSAT was selected by the Technical University of Moldova (TUM). Following satellites from Kenya, Guatemala, and Mauritius, TUMnanoSAT is the fourth CubeSat to reach space through KiboCUBE in five years.
This mission aims to demonstrate technology in various CubeSat modules and subsystems. In addition to testing the behavior of sensors, it will gain experience with satellite communications, solar energy management, and electronic component durability.
By developing and operating TUMnanoSAT, TUM aims to attract young people in Moldova to STEM education and to strengthen scientific research in the field of space. In support of socio-economic development, successful mission results may lead to further advancement of space activities in the country.
For Bostan Viorel, professor and rector of TUM the launch into space of Moldova's nanosatellite TUMnanoSAT "designed and manufactured at the Technical University of Moldova represents the first national and institutional space experience." As a result of this major achievement, the Technical University of Moldova has demonstrated its strong human potential by demonstrating that engineering is a promising field that can be studied at home, contributing to the development of Moldova's space science and technology for both its academic community and its citizens.
UNOOSA Acting Director Niklas Hedman stressed the excitement to see the first Moldovan satellite deployed to space. For him, this accomplishment would not have been possible without the endless support of JAXA. Hedman expressed his gratitude that this partnership is "bridging the capabilities gap in the sector" and hopes "to see many more rounds in the future so that we can jointly offer this unique opportunity to more countries."
JAXA Director General of Human Spaceflight Technology Directorate, Sasaki Hiroshi, said: "It is my pleasure that JAXA successfully deployed the first satellite of Moldova, TUMnanoSAT, from the Kibo module of the ISS." According to Sasaki, JAXA is honored to play a role in the feat of Moldova joining the space-faring community. According to Sasaki TUMnanoSAT has significant missions ahead, including technology demonstration of various sensors, to which he wishes great success.
Other awardees are also making good progress with their projects, allowing the partners to hope that another KiboCUBE satellite will launch soon.