How and Where to Get Vaccinated for Free Against Influenza in Vienna
The City of Vienna is offering free influenza vaccines between November 2, 2021 and March 31, 2022 to all people over the age of 7 months who live, study or work in Vienna. A total of 450,000 vaccine doses are available. Find out when and where to sign up and where to get the vaccination here.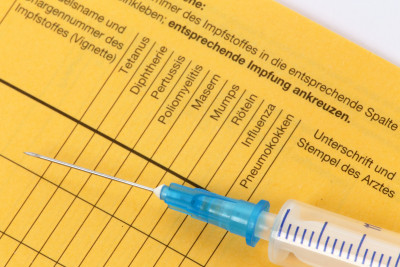 The free flu vaccination campaign in Vienna will start on November 2, 2021. / Picture: © Flickr / Tim Reckmann (CC BY 2.0)
The City of Vienna will again offer a free influenza vaccination campaign in the 2021/22 season.
From November 2, 2021 to March 31, 2022, all people over the age of 7 months who have their center of life, education or work in Vienna - regardless of whether they are assigned to another province - can be vaccinated.
"A total of approximately 450,000 influenza vaccine doses are available and we are very pleased to be able to offer this campaign again this year, nationwide, low-threshold and free of charge for the Viennese population. Our health care system continues to be severely challenged by the Corona pandemic. In addition to protecting yourself, a flu vaccination is also an important contribution to protecting others and keeping the burden on our hospitals and healthcare system as low as possible," said Peter Hacker, City Councillor for Health.
"I think it's great that the City of Vienna is once again offering the flu vaccination free of charge to Viennese residents this year. The flu, like Corona, is preventable through vaccination. I therefore appeal to all people - go to your family doctor, take your child to your pediatrician or to a vaccination center and also get vaccinated against the flu. Because it is unfortunately to be feared that the flu season will be severe this year. With a vaccination, however, you are safe from this not so harmless infectious disease," says the President of the Vienna Medical Association, Thomas Szekeres.
"Viruses don't care about city limits and registration slips," says Peter Lichtmayer, the division manager responsible for flu vaccination at the Vienna Public Health Service (MA15). "Our goal is to establish a Viennese immunological firewall by offering as broad and low-threshold a service as possible in the city, which protects elderly high-risk persons, risk groups with underlying diseases from the particularly dangerous double infections."
The vaccinations are carried out by physicians in private practice, in the seven vaccination centers of the health service, in the Austria Center Vienna, in the vaccination centers of the health insurance companies, in medical institutions, nursing homes/residential homes for the elderly, social institutions and by company physicians.
Starting in December, a vaccination streetcar will also be used again.
Vaccination appointments can be made online at www.impfservice.wien or by phone at 1450 starting October 25, 2021.
The vaccination centers of the City of Vienna are available during the following opening hours: Mon. to Sat. from 08:00 - 12:00 and 13:00 - 17:00, partly also on holidays (*).
Municipal vaccination centers (Städtischen Impfzentren):
1020 Vienna, Karmelitergasse 9, 1st floor
1030 Vienna, Thomas-Klestil-Platz 8/2*
1120 Vienna, Am Schöpfwerk 29/11/R10*
1150 Vienna, Gasgasse 8-10* 1180 Vienna, Martinstraße 100, 1st floor
1210 Vienna, Wassermanngasse 7*
1220 Vienna, Schrödingerplatz (entrance VHS)
1220 Vienna, Austria Center Vienna (opening hours analogous to "COVID-19-Impfstraßen")
ÖGK Austrian Health Insurance Fund (Österreichische Gesundheitskasse):
1210 Vienna, Karl-Aschenbrenner-Gasse 3 (7:45 a.m. - 1:45 p.m.)
1100 Vienna, Wienerbergstraße 15-19 (8:00 a.m. - 1:00 p.m.)
(closed on 12/8, 12/24, 12/27-21 through 1/7-22).
KFA:
1210 Vienna, Franz-Jonas-Platz 8/1/2
Mon. to Thu 08:00-15:00 and Fri 08:00-14:00